PTE vs IELTS?
PTE vs IELTS, which one do you choose? Well, many of us have dreams to study and live abroad in English-speaking countries such as Australia, Canada, the US, and the UK. And many aspiring test-takers have a barrier to overcome, in terms of being able to prove their proficiency in the English language. That is where the importance of PTE vs IELTS compare comes into the picture. Also, you need to decide which one you should choose. In order to take that decision, don't just go blindly by someone's recommendations. But it's better to perform your own analysis, weigh your options and then do the math.
Well, there are several parameters that you should consider when analyzing PTE vs IELTS. And these should definitely include PTE vs IELTS score comparison, PTE vs IELTS comparison which is more accepted and where, PTE vs IELTS price comparison, compare is PTE easier than IELTS, and many more. Don't worry, we will take a look at each of these in detail and give you all the analysis you need to make a better-informed decision for your career. We will compare each and everything between the two English tests, including the difficulty level, price, format, acceptance, and more. You will definitely be more informed by the time you finish reading this article, to decide between PTE vs IELTS tests, and which one is better for you. So, don't worry and buckle your seats to find the differences between PTE and IELTS and compare which one is easier.
IELTS vs PTE Compare Overview
Undoubtedly, between IELTS vs PTE, the IELTS is one of the most widely accepted English proficiency tests worldwide. Overall, more than 10,000 immigration bodies and universities around the world recognize and accept the IELTS test and in 2018 alone, according to the IELTS website, more than 3 million IELTS exams were taken worldwide. Moreover, according to industry experts, both PTE vs IELTS take a holistic approach to check the English proficiency of test-takers. But IELTS has huge numbers behind it, due to its' presence for a longer period of time.
On the other hand, the Pearson Test of English Academic, or PTE, was launched in 2009, many years after the IELTS exam was launched, making PTE the youngest player in the market. However, the way PTE conducts the English exams and evaluates its examinees, has given PTE phenomenal growth in terms of both popularity and acceptance. The state-of-the-art PTE algorithm, which is developed with the help of advanced artificial intelligence and machine learning capabilities, eliminates the bias that many test-takers face when appearing for the IELTS exam. So, when it comes to choosing PTE vs IELTS, you should know that, with every passing day, PTE is getting more and more accepted by colleges and universities across the globe and many immigration bodies like Australia, New Zealand, and the United Kingdom are now accepting PTE scores for their visa applications.
In a nutshell, IELTS is conducted in 2 days with a total exam duration of approximately 3 hours. Whereas the PTE test is conducted entirely online in just 1 sitting and the duration is just about 2 hours. So, there are 2 days that you need to actually finish one attempt at the IELTS exam.
PTE vs IELTS Compare Score and everything
So, have a look at the table below that summarizes all the key comparisons for PTE vs IELTS exams. We will then take a look at each one of them in detail.
| | | |
| --- | --- | --- |
| PTE Vs IELTS Comparison | PTE ACADEMIC | IELTS |
| How to Book & Register for the PTE and IELTS exam? | You can register and pay online up to 24 hours before the test. https://www.pearsonpte.com/ | Normally done online or via email. Registration may close a few days before the test. https://www.ielts.org/for-test-takers/book-a-test/ |
| Availability of PTE and IELTS tests in a year | PTE tests are available weekly in the majority of testing centers in the world. PTE Tests are run up to 3 times per day in high-demand areas, 5+ days a week. | IELTS exams are normally conducted in 48 fixed test sessions per year throughout the world, which averages to 2 exams per month. |
| Where can I give the PTE and IELTS tests? | Worldwide Check the PTE official website for locations close to you. | Worldwide Check the IELTS official website for locations close to you. |
| Duration of PTE vs IELTS tests | The latest PTE test format is 2 hours session | The average IELTS test lasts about 3 hours, including two separate sessions (Speaking test is conducted separately) |
| Format of PTE vs IELTS exam | 3 parts: Speaking & Writing, Reading, Listening. | 4 parts: Listening, Reading, Writing, And Speaking. |
| Mode of PTE vs IELTS exam | PTE test is entirely computer-based and 100% marked by the PTE algorithm (computer). | Paper-based IELTS tests and interviews are marked by examiners. |
| PTE vs IELTS compare Result availability | PTE results are available in 5 working days on average. | IELTS Paper-based test: Published 13 calendar days after the test. IELTS Computer-based test: Available in 3 to 5 days after the test. |
| PTE score vs IELTS score | This provides an extremely accurate and consistent assessment of a test taker's abilities. The highly granular test scored in a range of 10-90 points for each of the sections: listening, reading, speaking, and writing. | IELTS exam uses nine scoring bands (0-9) for each of the sections: listening, reading, speaking, and writing. |
| PTE vs IELTS compare scoring accuracy and fairness | PTE has automated scoring, is highly accurate, and has no biases. | IELTS is human-assessed (can include manual errors) and also subject to human bias. |
| Results Access & Submission | Test takers can access and submit their scores. It can be done to an unlimited number of educational institutions and professional bodies at no additional cost. | Paper certificates are mailed by post. Limitations on the number of score submissions, and additional scores incur fees. |
| PTE vs IELTS Price | USD $160 | USD $185 |
| PTE vs IELTS Global Acceptance | More than 3000 colleges, universities, and immigration bodies accept PTE academic scores. | More than 10,000 colleges, universities, and immigration bodies accept IELTS academic scores. |
| PTE vs IELTS compare Testing Authority | Pearson PLC | British Council, IDP: IELTS Australia and Cambridge Assessment English. |
PTE vs IELTS Compare
Now, let's have a look at each of the above items to compare IELTS and PTE together. Slowly, you will unfold all the details of both tests to make a better comparison. If you want to understand the details of the PTE test, please read the blog PTE Exam Format.
Watch the video, if you prefer don't prefer to read
PTE vs IELTS Compare Price
When you think about the price of PTE vs IELTS, there is not much difference, but the cost of PTE Academic is slightly lesser than IELTS. The PTE test costs approximately USD $160, whereas the IELTS test costs approximately USD $185, according to the official figures checked in August 2022. But, these costs may change slightly up or down, depending on their governing bodies deciding to lower or hike the test prices. So, for the latest updates and pricing information for PTE vs IELTS, please visit their official websites listed below and check the prices according to where you are planning to give the test, as the prices may slightly differ according to the locations as well.
PTE vs IELTS Score
Both IELTS and PTE exams are divided into overall 4 sections, which are Reading, Writing, Listening, and Speaking. But PTE groups them into 3 sections, clubbing Speaking and Writing into one section which is Part 1. This is followed by Part 2 which is Reading, and finally, Part 3 which is listening. On the other hand, the IELTS test starts with Listening, followed by Reading and then Writing in session 1. In session 2, IELTS conducts the Speaking test separately on another day.
PTE compared to IELTS Exam Pattern
Now you know that both the PTE vs IELTS exams are divided into four sections. But they differ in total time as well as types of questions. So, I will now walk you through the sections and the types of questions that you get for each of the exams, along with the duration of those sections. Firstly, to compare PTE with IELTS, let's have a look at the IELTS exam first and see the sections and types of questions in it.
PTE score vs IELTS compare sections and questions
| | | | |
| --- | --- | --- | --- |
| IELTS Sections | Duration | Number of questions | IELTS Question details |
| Listening | 30 minutes | 40 | The IELTS Listening consists of 4 recorded monologues and conversations. |
| Reading | 60 minutes | 40 | The IELTS Reading includes 3 long reading passages. It includes descriptive, factual, discursive, and analytical texts, as well as non-verbal materials like diagrams, graphs, and illustrations. The questions contain authentic texts from books, journals, and newspapers. |
| Writing | 60 minutes | 2 | In IELTS Academic & General Writing, there are 2 types of questions. The first IELTS Academic Writing task is a 150-word task where the candidate summarizes describes, or explains a table, graph, chart, or diagram. The first IELTS General Writing task is a 150-word task where you need to write a formal or informal letter. The second IELTS Writing task common for both Academic and General, which is one is a 250-word essay on any given topic. |
| Speaking | 11 to 14 minutes | 3 | IELTS Speaking test comprises face-to-face interviews that include short questions, in-depth discussion about a familiar topic, and a structured discussion. |
IELTS Sections
IELTS Sections and Questions
As you can see in the table above, there are a lot of questions in the IELTS Listening and Reading sections. The IELTS 40 listening questions are based on the 4 recorded conversations that will be played to you during the exam, and the 40 reading questions of IELTS have based on 3 to 4 long passages that you need to read and answer the given questions. For the IELTS Writing part, there are just 2 questions both for the IELTS General and Academic. However, one writing task differs between the IELTS General and Academic tests, which is writing a letter or analyzing a graph respectively.
Moreover, IELTS Speaking is a separate test, conducted at a different location and on a different date and it includes short questions, face-to-face interviews, and in-depth and structured discussions facilitated by an IELTS assigned examiner. So, in the next section, we will actually be doing PTE score vs IELTS comparison to give you more insight into both tests.
PTE Sections and Questions
Next, let's have a look inside the PTE Academic test, which will further help to compare IELTS and PTE tests.
Section
Duration
No. of questions
Question details
Speaking
29-30 min
25 to 31
Read Aloud, Repeat Sentence, Describe Image, Retell Lecture, Answer Short Question.

Writing
10–20 min
20– 40 min
1 to 2
1 to 2
Summarize written text
Write Essay

Reading
29-30 min
13 to 18
Reading & Writing: Fill in the Blanks, Multiple Choice, Choose Multiple Answers, Reorder Paragraph
Reading: Fill in the Blanks, Multiple Choice, Choose Single Answer.

Listening
30 to 43 minutes
12 to 20
Summarize spoken text, Multiple Choice, Choose Multiple Answers, Fill in the Blanks, Highlight Correct Summary, Multiple Choice, Choose Single Answer, Select Missing Word, Highlight Incorrect Words, Write From Dictation.

PTE Sections
The above table shows you the breakdown of the PTE test, so when you compare PTE vs IELTS, you will find that the entire PTE test is based on different types of questions or tasks. Each PTE task is substantially different from the other, although they may have some similarities in terms of appearance or approach to solving them. As you already know now that in PTE vs IELTS, the PTE exam is entirely evaluated by a computer, including the Speaking section, which includes 5 different types of tasks. It can prove to be quite challenging if you don't prepare for the PTE tasks well. For the PTE Reading tasks, for each question, you will have a separate text to read and answer the questions appropriately. Next, for the PTE Listening section, you will have a different audio recording per question.
So, you need to prepare for all the different tasks of PTE, before taking the test.
PTE and IELTS Section comparison
Also, the PTE exam can prove to be challenging if you don't have strategies to deal with the different question types. Now, when you compare PTE vs IELTS, you will quickly notice that there is a subtle difference here in terms of the number of text passages for the PTE vs IELTS Reading section and the number of recordings for the PTE vs IELTS Listening section. Not only that, the overall PTE test is shorter in duration than the IELTS test. More or less, both tests are designed to test your English language skills, but they do it in their own ways. Also, we will next take a peek at the scoring bands both of these exams use and how they correlate with each other.
In the PTE test, each of the sections is approximately 30 minutes in duration, but in the IELTS exam, the Reading and Writing sections are 60 minutes each alone, which takes almost 2 hours to complete. Additionally, you have to complete the listening section in 30 minutes and the speaking section in around 15 to 20 minutes. So, while the PTE test can be completed within two hours, the IELTS test takes around 2 and a half to 3 hours. Additionally, you need to take the IELTS Speaking test on a different day and in a different test center, which makes it further cumbersome.
PTE Score vs IELTS Score
Please bear in mind that the comparison between PTE score vs IELTS score change sometimes. Especially since it changed recently after the PTE test was updated. Read more about the latest [PTE Exam Format] here. So, the below table presents you with the band comparison for the PTE score vs IELTS score.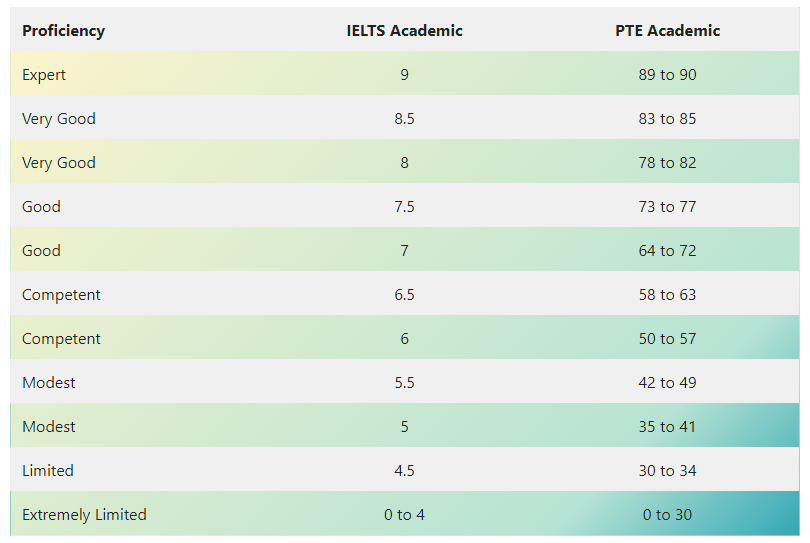 PTE Score vs IELTS Score
High Score comparison in PTE and IELTS
With the comparison presented above, it should now be apparent which IELTS band corresponds to the specific PTE score range. This will help you to judge how much score you need in IELTS vs PTE, as some colleges might accept both scores, but only tell you the IELTS score band. So, in such cases, the above table will help you to easily relate between the IELTS and PTE tests. For example, to prove yourself as an expert in the English language, you need to obtain a 9 band in the IELTS test and correspondingly a minimum of 89 in the PTE test. In IELTS, it is almost impossible for non-native English people to get such a score, especially when it is evaluated by a physical examiner. On the other hand, getting a top-level score on the PTE test is possible for non-native test-takers.
Low score comparison in IELTS and PTE
The lowest score that you can get in the PTE vs IELTS exams is between 0 to 4 band in IELTS and 0 to 30 in PTE. This means that your English proficiency is extremely poor and you do not have the ability to either read, write or understand proper English. Test-takers who get scores in the lower bands need to mandatorily try to improve their English language skills such as grammar, vocabulary, written discourse, and so on. Unless they improve these basic areas, repeated attempts at these exams are futile or useless. Because these are English language tests, you cannot learn answers to the questions and try to get a better score. Edutrainex can definitely help you with your basic English skills. So, if you need help you can reach out to us.
Is PTE easier than IELTS?
This is a million-dollar question every person with a dilemma in their minds about these two tests is thinking about. Is this really true, is PTE easier than IELTS? To some extent, the answer to this question is qualitative, but we can also quantify the numerous advantages and disadvantages of PTE vs IELTS. And then you can easily decide, is PTE easier than IELTS.
Advantages and Disadvantages of PTE vs IELTS, which one is easy?
IELTS exam acceptance is much more than PTE, and this is because the IELTS exam has launched a long time back as compared to the PTE test.
The options of test centers are much more for IELTS, but the drawback is it is usually conducted only twice a month on average. On the other hand, PTE has fewer test centers but it is conducted almost 3 times a day and 5 days a week. So, does that make PTE easier than IELTS, in terms of ease of appearing for exams? You could say so.
The face-to-face interviews on IELTS speaking test is more accurate in judging a person's English speaking capabilities, as compared to PTE's AI evaluation, which can be tricked in certain ways, so does that make PTE easier than IELTS? Maybe, yes.
The effectiveness of the IELTS test is more, as the questions of these tests never get repeated, whereas the PTE maintains a question bank (although it is refreshed from time to time), many questions do get repeated, especially within a span of 1 to 3 months, so does that make PTE easier than IELTS? Probably, yes.
More Advantages of PTE over IELTS – comparison
In IELTS Speaking and Writing tests, human evaluators check your responses, and there may be biasness while assessing your response. So, this may mean that you can get different scores if a different evaluator checks your answers. Although IELTS does try to rectify this problem to an extent by having 2 examiners test the same question and then take the average result, it may still not be a 100% accurate evaluation of the response. Whereas in the PTE test, the PTE algorithm (computer) checks your response and there is no question of bias. Doesn't that make PTE easier than IELTS? Definitely, yes.
Additionally, the results for IELTS take a longer time to come, which means that if you need to take re-attempts. You may have to wait 10 to 15 days for the result to come back, and maybe another month or so to book the next test. Whereas, for the PTE exam, you can just book it 24 hours in advance. And you get the PTE scores within 3 to 5 days after giving the test. Doesn't that make PTE easier than IELTS? Absolutely, yes.
And lastly, in terms of acceptance by immigration bodies such as Australia, New Zealand, and the United Kingdom. They all accept PTE scores for your visa applications for settlement or study purposes. So, it definitely makes PTE easier than IELTS.
Decide which one is easier PTE vs IELTS?
So, If you compare all these advantages that PTE has got over IELTS, you can definitely get an answer to which one is easier between the PTE and IELTS tests. Unless you are applying for a country or university that does not accept the PTE scores, in those cases you don't have any other option and you definitely need to prepare for the IELTS. But in other cases, when you do have the option of choosing between the PTE vs IELTS exam, in my opinion, it will be unwise to choose IELTS. But hey, everyone has their own conscience and own decision-making power, so it is better you make a judgment for yourselves in choosing between IELTS vs PTE. Therefore, I have laid down all the important facts and figures in front of you, that will help you to take that decision.
In the end, both examinations are well recognized throughout the world and are being taken by thousands of test-takers. For obvious reasons, the PTE test is ahead of IELTS, both in terms of usage of technology as well as addressing the loopholes. But IELTS still remains the most widely accepted English exam worldwide.
And the winner is!!!
I am now sure that you have all everything you need to take a better decision for yourselves. But in terms of weighing both the IELTS and PTE exams together, we think that PTE is a clear winner. The PTE is easier, it is cheaper, we get faster results and it is shorter. Also, it is easier to book and prepare, along with the hassle of going to the exam just once. So, you can see these advantages of PTE over IELTS and take an informed decision.
But are you unsure of how to prepare for the PTE test? Don't worry, Edutrainex is one of the pioneers in providing world-class training for the PTE exam. We have a large number of successful students who have cleared their PTE tests with flying colors. Our PTE specialists are dedicated to making your learning process seamless, so you can achieve your goals. Enroll here today for a bright future.