Are you preparing for the upcoming PTE test? Then hold on a second and answer me. Did you know that the PTE exam format has changed since November 16, 2021? Yeah, it is right, and there are specific changes to the PTE exam format, that you should be aware of before appearing for the PTE exam.
Watch the video on PTE test format here.
The changes in the PTE Exam aim to make the text more convenient for the PTE test-takers. Without further delay, know more about the four significant changes to the PTE exam format.
PTE Exam Format – What has changed?
A shorter time in the new PTE Exam format
Are you excited after reading this? Yes, you read it right. The PTE exam will get shorter. Before November 16, 2021, the length of the PTE exam format was 3 hours, but now it is reduced to around 2 hours. This change is a very beneficial one because it helps the PTE test-takers. The PTE experts observed that the PTE test-takers usually completed the test in 2 or 2.5 hours when they were given 3 hours.
Secondly, the PTE Exam format timing of different test sections has been reduced. The personal introduction section of the PTE test has no changes in its timings. A significant decrease in the writing and speaking test can be seen in the new PTE exam format. Also, from the reading section, around 29-30 minutes have been reduced. So, the reduction of timings in the PTE exam would help the PTE test takers to save time.
Less number of questions in the new Test Format
The above-mentioned changes are not enough. There is even more, to go through. To decrease the overall time of the test, the new PTE Exam format also has the number of questions reduced. Let's look at each section of the test and the number of questions you will have to do now.
Now, let me walk you through the changes in each section of the PTE exam in detail.
PTE Speaking
Firstly, Starting with the Speaking section.
| | | |
| --- | --- | --- |
| Question Type | 3hr Test Format | 2hr Test Format |
| Personal Introduction | 1 | 1 |
| Read Aloud | 6-7 | 6-7 |
| Repeat Sentence | 10-12 | 10-12 |
| Describe Image | 6-7 | 3-4 |
| Re-tell Lecture | 3-4 | 1-2 |
| Answer Short Questions | 10-12 | 5-6 |
As you can see in the table, in the new PTE Exam format, there is no change in the personal introduction, read aloud, and repeat sentence part. But the number of described images has been reduced from 6-7 questions to 3-4 questions. Similarly, the number of questions in retell lecture has been reduced to just 1-2. Furthermore, answer short questions have been decreased from 10-12 to 5-6.
So that makes it a bit faster. However, that doesn't mean it will be easier or more challenging.
PTE Writing
Moving on to the next section, which is Writing.
Next, In the writing section of the new PTE exam format, instead of doing 2-3 summarize written texts, you will have to do just 1-2. The number of essays you will write has remained unchanged. So, overall speaking & writing questions has significantly been reduced to 28-36.
Basically, there are not many changes in writing, but the number of questions has certainly reduced.
PTE Reading
Now, Let's take a look at the PTE Reading section.
As you can see, in the new PTE exam format, there will be no change in the fill in the blanks (reading & writing), reorder paragraph, and fill in the blanks (reading). However, multiple-choice, multiple answers, and multiple-choice, single answer has been reduced to 1-2 each.
So, I guess the clearly defined changes will help you prepare yourself for the exam. Stepping ahead to the final part, that is listening.
PTE Listening
Now, let's have a look at what has changed in the PTE Listening section, as per the PTE exam format 2022.
| | | |
| --- | --- | --- |
| Question Type | 3hr Test Format | 2hr Test Format |
| Summarize Spoken Text | 2-3 | 1-2 |
| Multiple Choice, Choose Multiple Answers | 2-3 | 1-2 |
| Fill In The Blanks (Listening) | 2-3 | 2-3 |
| Highlight Correct Summary | 2-3 | 1-2 |
| Multiple Choice, Choose Single Answer | 2-3 | 1-2 |
| Select Missing Word | 2-3 | 1-2 |
| Highlight Incorrect Words | 2-3 | 2-3 |
| Write From Dictation | 3-4 | 3-4 |
| Overall Listening Questions | 15-22 | 12-20 |
Firstly, There are no changes in fill in the blanks(listening), highlight incorrect words, and write from dictation in this listening section. However, summarize spoken text , multiple choice, multiple answers, highlight correct summary, multiple choice, correct answer and select missing word has been reduced from 2-3 to 1-2. Summing it up, the questions has decreased from 15-22 to 12-20 in the listening section.
Removal of optional break in the new Test format
According to the old rules, the PTE exam had a 10-minute optional break. But since November 16, 2021, the optional break has been removed from the new PTE exam format. The removal of the optional break from the PTE exam proved to help the PTE test-takers complete their test in 2 hours.
Appearance of the PTE Score Report
Since November 16, 2021, you will find some changes in the PTE score report. Your overall score and your listening, reading, writing, and speaking skills scores will remain unchanged. Still, you will no longer earn enabling skill ratings for grammar and vocabulary. Instead, you'll get a report on how to enhance your skills in these areas.
After completing the PTE Academic test, you will receive a Score Report and a Skills Profile. Student reports and profiles explain their test scores and language skills and suggest areas of improvement. With this, let me point out a few more changes clearly:
1. There will be no more enabling skills– There was an Enabling Skills section in the Score Report before November 2021. In place of this, a personalized Skills Profile is available that will use your test performance to provide specific feedback. This is intended to assist test takers in learning English in the future. Additionally, teachers may find this tool useful if a student does not reach the required score the first time around and wishes to retake the test.
2. An online skills profile– Only you will be able to see the new Skills Profile. Moreover, it will not be shared with the institutions that you are applying to. During the test, a student's teacher and the test taker will be able to figure out what specific language skills should be improved.
Let's see how it works. There are eight language skill categories in the new profile: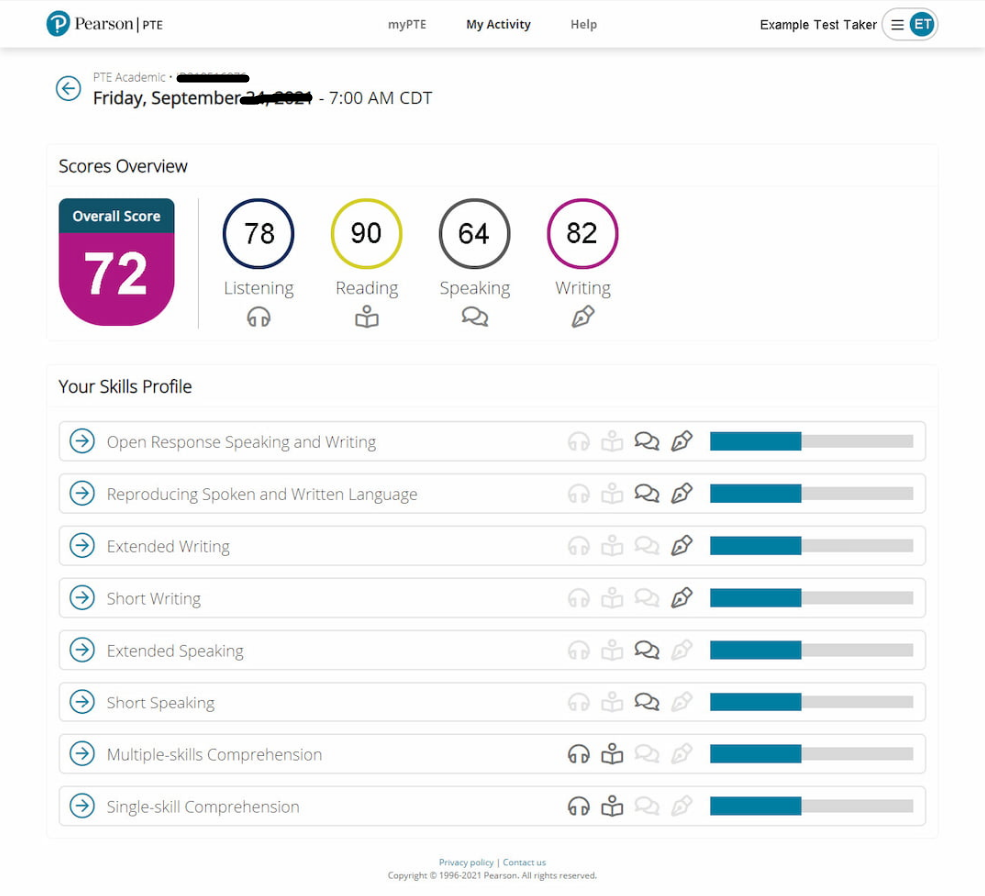 Open Response Speaking and Writing
Reproducing Spoken and Written Language
Extended Writing
Short Writing
Extended Speaking
Short Speaking
Multiple-skills Comprehension
Single-skill Comprehension
3. Individualized recommendations– The Skills Profile offers personalized recommendations in each category to help strengthen your English skills. A drop-down list will appear when you click on a language category. Based on the GSE learning objective for test-related skills, it provides an overview of the skill area and recommendations. The recommendations provide useful ways to practice and improve specific language skills.
Your PTE preparation classes will be then further tailored to learners' needs and help them succeed with these personalized recommendations.
PTE Exam format Changes: At a glance
Meanwhile, did the above explanation of changes confuse you? Don't worry, here we have an overall description of changes in the PTE exam. Among all these, it is important to note that these are changes are into effect after November 16, 2021.
| | | | |
| --- | --- | --- | --- |
| Part | Content | Test Time(3hr) | Test Time(2hr) |
| Introduction | Introduction | 1 minute | 1 minute |
| Part 1 | Speaking & Writing | 77-93 minutes | 54-67 minutes |
| Part 2 | Reading | 32-41 minutes | 29-30 minutes |
| Optional Break | —— | 10 minutes | removed |
| Part 3 | Listening | 45-57 minutes | 30-43 minutes |
So, as you can see in the table, the time for the introduction has not changed. Before November 16th, it was of 1 minute, and after November 16th also it is of 1 minute. Additionally, the time for the Speaking & Writing section has been reduced from 77-93 minutes to 54-67minutes. Likewise, the reading section has been reduced to 29-30 minutes. Earlier, it was 32-41 minutes.
Furthermore, the optional break has been removed. The next part that is, the Listening section has been reduced to 30-43 minutes. Hence, summing all up, there will be a 1-hour decrease in the time provided to complete the PTE test.
After all these changes, the test will still measure your language skills just as reliably, validly, and fairly as before.
What has NOT changed in PTE Exam format?
Going through these mind-boggling changes, please don't be confused. There are still a few things that haven't changed.
Meanwhile, as per the new PTE exam format, the kind of questions in the new PTE academic will stay the same, which means that the difficulty level remains the same.
The number of parts and sub-sections will also be the same as in the previous PTE academic. As a result, students need not worry about changing their study habits or the resources they use to prepare for the exam. You still need to prepare for 20 different tasks under the new PTE exam format.
Your score requirements will also not change. For instance, if you need to score 70, then now you still need to score the same. In other words, the acceptance of PTE scores by universities and immigration bodies around the world, still remains the same under the new PTE exam format.
Finally, the improvements proposed by Pearson will have no impact on the difficulty level of the PTE academic test. If you find the tasks that have been reduced under the new PTE exam format, then you can say that the difficulty level has decreased by a bit.
In conclusion, I would say that these changes are beneficial. Therefore, considering what's changed and what's not changed, this is an absolute win-win situation for PTE test takers.
How to prepare for the new PTE Test format?
Hence, with the PTE exam format changes stated above, you will have to prepare with a slightly changed strategy. So, Edutrainex is here to help you through your PTE journey. Additionally, we have updated our mock tests to give you a real flavor of the exam.
Moreover, you can get tips and strategies to prepare yourself for the new PTE exam format. The ample practice questions will hone your skills in all four sections of PTE. It doesn't end here. You can also learn from the PTE experts with a proven track record. So, get feedback and in-depth analysis of your tests that will help you get better and better, and ultimately you will ace the exam! Click here to join Edutrainex today.
Related Articles on PTE Exam: