PTE vs TOEFL vs IELTS – Deciding whether to take the IELTS, TOEFL, or PTE is daunting for many who wish to settle or study abroad. However, the battle between the two most widely accepted English language tests, IELTS and TOEFL, has always been one of history's most excruciating contests. As a matter of fact, the Pearson Test of English Academic, or PTE, launched in 2009, is the newest player in this industry. Nevertheless, it is catching up to its two rivals in terms of popularity and acceptability, making this a three-way race.
If you are wondering which test is better between IELTS, TOEFL, and PTE, it isn't easy to answer. Chiefly there are several factors to consider, including your institution of choice, score requirements, and personal preferences. Let's examine these points to see which IELTS or TOEFL, or PTE score is higher than the others, and then I will leave it to you to decide, which language test you should take.
Synopsis: IELTS vs TOEFL vs PTE 
IELTS
The IELTS is undoubtedly one of the most widely accepted English proficiency tests. Altogether, over 10,000 institutions and immigration authorities around the world recognize the test. There were over 3 million IELTS exams taken in 2018, according to IELTS.org. According to experts, this test's holistic nature accounts for its wide acceptance compared to TOEFL and PTE. Particularly, it is a two-day test composed of four sections – reading, writing, listening and speaking.
TOEFL
TOEFL is another widely recognized English proficiency test. Undeniably, testing overseas students' language skills is widespread in US colleges and universities. In addition to IELTS, TOEFL consists of four major sections, and most of them are now offered online, except for a few countries.
PTE
Markedly, writing and speaking sections of the Pearson Test of English are both included in this consolidated test. So, this test is entirely online. Simultaneously, it is becoming more common for colleges and universities to accept and recognize PTE scores. Likewise, some governments (Australia and New Zealand) have started accepting PTE results in their visa applications.
Exam Pattern: IELTS vs TOEFL vs PTE  
Given these points, I hope you have got an idea of what these tests are about. So after getting an overview of all the three English Tests, let me explain their exam pattern in detail.
IELTS
| | | | |
| --- | --- | --- | --- |
| Section | Duration | No. of questions | Question details |
| Listening | 30min | 40 | Consists of 4 recorded monologues and conversations |
| Reading | 60min | 40 | Includes 3 long reading passages It includes descriptive, factual, discursive, and analytical texts, as well as non-verbal materials like diagrams, graphs, and illustrations. Authentic texts from books, journals, and newspapers. |
| Writing | 60min | 2 | A 150-word writing task where the candidate summarizes describes, or explains a table, graph, chart, or diagram, and a 250-word short essay. |
| Speaking | 11-14min | 3 | Interviews face-to-face include short questions, in-depth discussion about a familiar topic, and a structured discussion |
Just like the other two tests, this exam also has four sections, namely- Reading, Writing, Speaking, and Listening. The Listening section comprises 40 questions, with a duration of 30 minutes. Further, it will have 4 recorded monologues and conversations, to which you will have to listen and answers the questions that follow.
Moving ahead to the Reading section. It has a total of 40 questions, with a duration of 60 minutes. It includes 3 long reading passages from authentic sources, which you will have to read and answer accordingly.
Thereafter Reading is the Writing section. Altogether, it will be for 60 minutes, with just 2 questions. Subsequently, it is a 150-word writing task where you will describe and explain the given question. In addition to it, you will have to write a 250-word short essay.
The last section is the Speaking section. It has an overall duration of 11-14 minutes, you will have 3 questions. Then, you will have a face-to-face interview, where you will be asked short questions and discussions on a familiar topic.
TOEFL
| | | | |
| --- | --- | --- | --- |
| Section | Duration | No. of questions | Question details |
| Listening | 41-57min | 28-30 | Listen to audio clips & answer questions |
| Reading | 54-72min | 30-40 | Reading and answering 3-4 passages |
| Writing | 50min | 2 | Prepare a structured essay |
| Speaking | 17min | 4 | Expressing your opinion on a current topic |
Firstly, let me tell you about the exam pattern of TOEFL. Likewise, this exam also has four sections. In this case, there will be 28-30 questions in the Listening section for about 41-57 minutes. You will listen to the audio clips and answer the following questions.
Afterward, there will be 30-40 questions in the Reading section, with a time limit of 54-72 minutes. In this case, you will read the given 3 to 4 passages and answer the questions.
Likewise IELTS, the next section, is the Writing section. It will be of a duration of 50 minutes with just 2 questions to answer. Here you will have to prepare a structured essay.
The last one is the Speaking section. For 17 minutes, you will be asked four questions to express your opinion on any one topic.
PTE
| | | | |
| --- | --- | --- | --- |
| Section | Duration | No. of questions | Question details |
| Speaking | 29-30 min | 1 | Personal introduction |
| | | 6-7 | Read aloud |
| | | 10-12 | Repeat sentence |
| | | 3-4 | Describe Image |
| | | 1-2 | Retell lecture |
| | | 5-6 | Answer short questions |
| | | | |
| Writing | 10 – 20 min | 1-2 | Summarize written text |
| | 20 – 40 min | 1-2 | Write essay |
| | | | |
| Reading | 29-30 min | 5-6 | Fill in the blanks(reading & writing) |
| | | 1-2 | Multiple choice, Multiple answers |
| | | 2-3 | Reorder Paragraph |
| | | 4-5 | Fill in the blanks(reading) |
| | | 1-2 | Multiple choice, single answer |
| | | | |
| Listening | 10-20 min | 1-2 | Summarize spoken text |
| | 23-28 min | 1-2 | Multiple choice, multiple answers |
| | | 2-3 | Fill in the blanks(Listening) |
| | | 1-2 | Highlight correct summary |
| | | 1-2 | Multiple choice, correct answer |
| | | 1-2 | Select missing word |
| | | 2-3 | Highlight incorrect word |
| | | 3-4 | Write from dictation |
Following TOEFL and IELTS, there is PTE. Here is all you need to know, by and large, about the exam pattern of PTE. As a matter of fact, changes were made in the exam format since November 16, 2021. Read the article in detail-"PTE Exam: Exam format 2022" to know about the changes elaborately.
Score Board: IELTS vs TOEFL vs PTE 
The main difference between IELTS, TOEFL, and PTE is their scores.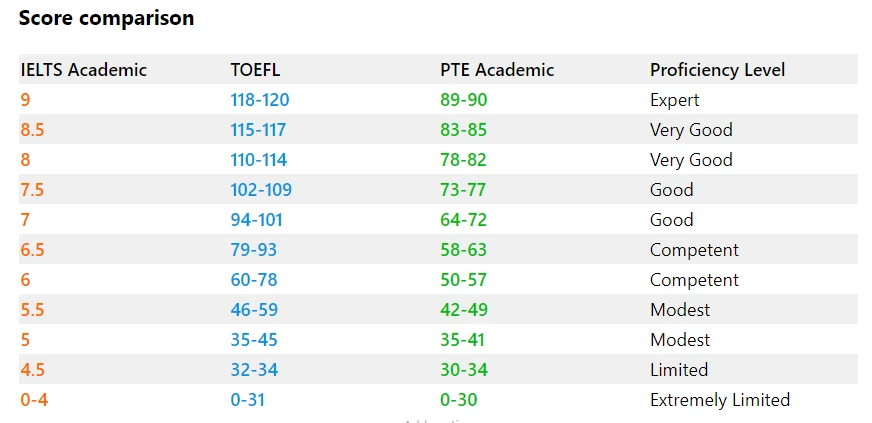 Explanation:
Since the four sections of the TOEFL are divided into equal parts, each part's score is 30 points, it is relatively easy to understand its scores. Conversely, PTE and IELTS provide consolidated results for the complete test, including all sections.
In IELTS, the scores are graded on a scale of 1-9 bands in the first place. Meanwhile, a score of 7 or above is considered good. On the contrary, PTE, gives scores from 0 to 90, with 65 being considered a good score.
In spite of the lack of a standard equivalence between these two tests, if we compare PTE and IELTS scores, we can assume that scoring 65 in PTE is the same as scoring 7 in IELTS. Likewise, 9 IELTS bands are equivalent to scores of 86 in PTE.
After discussing the scoring and exam patterns of IELTS, TOEFL, and PTE, let me show you the comparison of all these three exams in their different sections, at length.
Reading: IELTS vs TOEFL vs PTE 
IELTS
The reading paper includes three passages and forty questions divided into several sections. The candidate is required to complete it in 60 minutes in the first place. Then, among the various tasks are multiple-choice questions, matching information, diagramming, and identifying information. However, there is no set distribution of questions in the tasks.
TOEFL
In sum, there are 3-4 multiple-focus passages in the reading section (compare/contrast, cause-and-effect). Ten questions follow these passages. So, depending on the number of passages in the test, the time allocated to this section varies between 54 and 72 minutes. This section has a score range of 0 to 30.
PTE
This section of PTE will take between 32 and 40 minutes. You will be required to read passages and complete blanks, reorder paragraphs, and attempt multiple choice questions during the test.
Listening: IELTS vs TOEFL vs PTE 
IELTS
There are 40 questions on the listening paper divided into four separate tasks that must be completed in 30 minutes. Candidates are required to listen to four different recordings only once. Recordings will be made with a variety of voice types and native-language accents. Therefore, any topic can be discussed one-on-one or through a monologue. Indeed a wide range of questions is included, including multiple-choice, matching, map or diagram labeling, form completion, note completion, summary completion, and short answers.
TOEFL
This section contains three to four lectures, and some lectures include classroom discussions. You will be asked six questions at the end of each lecture, which lasts around 3-5 minutes. Then there will be quizzes on normal, everyday conversations. Further, you will hear 2-3 conversations, each lasting 3 minutes. Subsequently, 5 questions will follow each conversation. Besides, the listening portion of the test uses accents from all over North America.
PTE
The listening section of the PTE can last between 45 and 57 minutes. So, you will be asked, summarizing written text, filling in blanks, selecting missing words, highlighting incorrect phrases, and writing from diction. Nonetheless, there is a significant difference between this and the other two tests.
Speaking: IELTS vs TOEFL vs PTE 
IELTS
During a speaking test, you will be interviewed by an examiner for 11-14 minutes. There are three tasks in the test. Firstly, an introduction or an interview in which the examiner asks the candidate for a personal introduction. Then, the candidate is given a task card containing a topic to speak on. Secondly, the notes are to be jotted down in one minute and 1-2 minutes are allotted to the discussion. Later, a couple of questions can be asked by the examiner based on your topic at the end of the 2 minutes. The third task is related to the previous task. Moreover, an in-depth and abstract discussion of the topic in task two is presented. The task may last 4-5 minutes. However, sometimes, the speaking test is conducted on a different day.
TOEFL
In this exam, the speaking section tests your communication ability in four different ways. A single independent task will require you to express your opinion on a familiar topic. The time to prepare your response will be 30 seconds. Additionally, you will have three integrated speaking tasks based on reading and listening. Each task will require a minute to complete. Overall, you will have 17 minutes for this section. Scores will range from 0 to 4, and the points will be converted to a scale from 0 to 30.
PTE
Due to the fact that the Speaking and Writing sections of the PTE are combined, let's discuss this in the next topic.
Writing: IELTS vs TOEFL vs PTE 
IELTS
There are two sections to the writing test with a total test time of 60 minutes. Firstly, there is a variety of visual information. Henceforth, the candidates must explain the visual information in exactly 150 words. Furthermore, in section two, candidates must write a 250-word essay about an argument or topic they would like to elaborate on.
TOEFL
The writing section consists of two tasks. Reading and hearing are part of it, with a time limit of 20 minutes.
In the second section, the writer expresses his opinion on a topic. With a due time of 30 minutes, you should complete the task.
Altogether, this section will take a total of 50 minutes. Thereupon, grading will be according to a point range from 0 to 5. Finally, it will be converted into a score scale of 0 to 30.
PTE
PTE can last from 77 to 93 minutes for the speaking and writing sections. Firstly, you will introduce yourself. Thereby, you will read aloud, repeat sentences, retell lectures, answer short questions, and write an essay of 200-300 words in 20 minutes.
Baffled with so much information poured at a time? However, I hope that this does not become an overdose!! So, please bear with me a little longer. To sum up, let me highlight some of the significant differences between IETLS, TOEFL, and PTE. Here it goes:
IELTS vs TOEFL vs PTE Which is easier?
When it comes to deciding which test to take among IELTS vs TOEFL vs PTE, we tend to look at the difficulty level of each. So to make it easier for you, here is what I have to offer in discussing the challenging nature of IELTS, TOEFL, and PTE.
Due to the fact that PTE is a computer-based test, a computer program rates the test. Therefore, it is easier since it is unbiased. Additionally, PTE has no waiting time between sections, which means it consumes less time. On the other hand, for the same reason, it does not leave you much time to think.
In contrast, IELTS offers you the option of writing down your essay, but since a human evaluates it, the results might vary due to bias. Furthermore, TOEFL is a multiple-choice exam and is moderately difficult.
TOEFL vs IELTS: Which is more accepted? or PTE?
There are thousands of institutions throughout the world that accept all 3 English language tests:
Overall, 10,000 institutions in 140 countries accept the IELTS test. The IELTS test is especially popular in countries like the UK, Australia, Ireland, and South Africa.
Over 11,500 universities and other organizations in more than 160 countries accept TOEFL. US, Canadian, Australian, New Zealand, French, and German universities usually prefer TOEFL scores.
Additionally, thousands of institutions across the globe accept PTE Academic scores as well. New Zealand, Australia, and Ireland are among the best-known PTE English test centers.
In colleges and universities, it is common for students to take two (or more) English language tests. Therefore, make sure you know which English test to take if you are considering studying at a specific university.
Summary 
IELTS and TOEFL are both computer-based, with TOEFL being a computer-only test. So, if you prefer to take tests on paper, you can choose IELTS. In contrast, PTE is fully computerized.
Each of these exams has a different speaking section. However, with IELTS, you must attend a personal interview. On the other hand, TOEFL and PTE enable you to interact with the computer during your online testing process.
TOEFL and PTE tests are administered in standard American English. So, for those who grew up watching English movies and binge-watching sitcoms, TOEFL or PTE may be an option.
In the TOEFL writing section, you will need to write a longer essay. Therefore, it would be helpful if you are quick at typing. Whereas, if you can write legibly and type slowly, you could take the TOEFL. In contrast, writing an essay for PTE is relatively straightforward.
On the contrary to IELTS, TOEFL does not require you to give short answers. In fact, it requires you to complete MCQ-style questions. However, PTE combines both.
Rather than entertaining, the TOEFL reading passages aim to inform. As a result, you will have an easier time taking this exam if you enjoy reading non-fiction, news articles, etc.