Are you planning to travel to Australia but have several questions regarding the Australian Visa? Then do not worry, you have come exactly to the right place!!
The requirements for Australian Visa varies depending on whether you are visiting for tourism, business, work, studying, or visiting a family member. The visa process for many countries is easily completed online. On the contrary for others, you must submit a paper application at a consulate or embassy. So before moving ahead, let me first explain what Australian Visa is.
What is Australia Visa?
Australian Visas are permits that allow you to travel to Australia for a limited time. In contrast to most countries, Australia does not issue passport stamps or labels. Rather, your visa privileges are recorded on an online database, which is checked by the immigration officer when you arrive in Australia. The Australian Department of Home Affairs assesses and decides all visa applications.
You can usually stay in Australia, for atleast three months as a tourist or other short-term purposes like:
ETAs and eVisas are valid for one year after the issue. As long as you don't stay longer than three months on each visit, you can enter the country multiple times during this year.
The Tourist Stream Visa may be issued for up to three months, six months, or twelve months.
You can obtain long-term visas for work, study, or other purposes from a few months to five years, depending on your specific needs.
The exceptions for the Visa
So many people ask me if they need a visa for Australia. Then the answer is definitely yes. The only exception to this rule is New Zealanders, who are eligible for a visa on arrival. Everyone else has to obtain a visa beforehand. Depending on your nationality, you can obtain an eVisitor, an Electronic Travel Authority (ETA), or a visitor visa for short-term visits:
However, those outside of New Zealand must obtain a valid visa if they plan to stay for a long time, such as to study or work.
Let me now tell you in brief about the eVisitor Visa. Similar to a visa, an eVisitor is a travel authorization that allows a person to visit Australia. You can fill out an eVisitor application online. Further, you will receive an email confirmation once approved. Australian immigration office can access your confirmed eVisitor in an online database using your passport number. This is how they know you have been granted a visa. The eVisitor is usually sent within a couple of days since it's a facilitated visa.
Here's a list of European countries whose citizens are eligible to get the eVisitor Visa for Australia: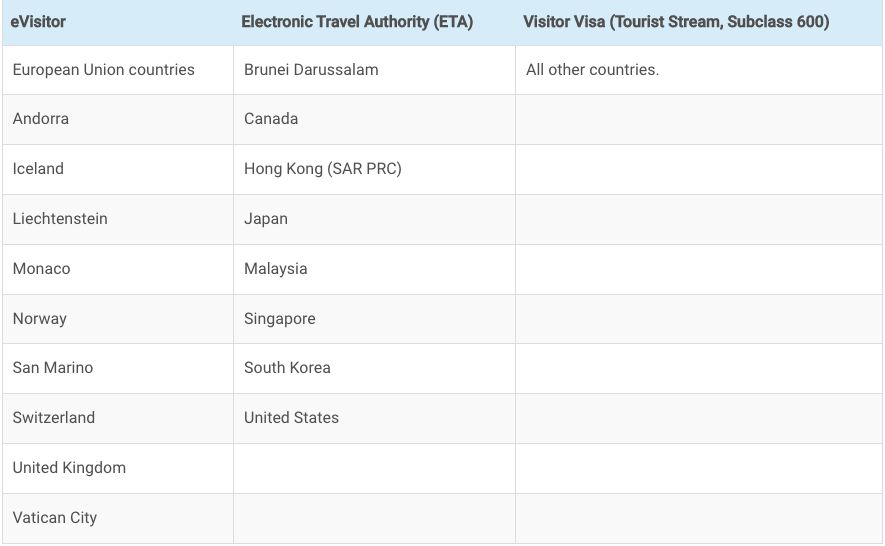 How to get an Australia Visa? 
You can obtain your Australian visa online or through an Australian Embassy/Consulate, depending on your nationality:
You can submit E-Visitor applications online at the Australian Department of Home Affairs.
The Australian Department of Home Affairs provides an official ETA portal where you can apply for an Electronic Travel Authority (ETA).
You can apply for an Australian visa online or in person at an Australian Embassy or Consulate.
When to Apply For the Australia Visa? 
You must apply for an Australian visa at the following times based on the visa type:
For a tourist visa, you should apply at least a month in advance, but you might consider applying even earlier.
You can apply for an eVisitor or ETA up to a week before your trip.
Generally, if you apply for a long-term visa, such as a work visa, you should start right away because it can take months to a year to get the Visa.
Types of Australian Visas: 
There are several types of Australian visas and their subclass. Following are the main types of visas-
Visitor visas
Study and training visas
Parent visas
Family visas
Partner visas
Humanitarian visas
Bridging visas
Business and investment visas
Work and holiday visas
Transit visa (subclass 771)
Special Category Visa (subclass 444)
Resident Return Visas ( Subclass 155 and 157)
Declaratory Visa
The Processing Time for an Australian Visa 
Depending on the type of Visa, the processing time varies. In most cases, it takes a few weeks to process the tourist visas. However, they can take as little as a few days if everything goes according to plan. In the case of long-term visas, it may take a few months up to more than a year.
Health Insurance for Australia Visa 
Long-term visa holders always require an Australian health insurance policy. The Australian government strongly recommends that visitors get health insurance, even if it isn't mandatory for visitor visas.
Australian Visa Extension 
Applicants who are already in Australia and wish to extend their stay can apply for a new visa two weeks before the expiration of their current one, provided their current Visa doesn't state "No Further Stay." When you enter with a tourist visa (which states "No Further Stay"), you cannot extend or apply for a new visa unless you have extraordinary circumstances.
You will receive a Bridging Visa after applying for another type of Visa. A Bridging Visa allows you to remain in Australia until the Immigration Authority approves your visa application.
Your stay after the visa expires 
You cannot stay in Australia after your Visa expires unless you have applied for a different type of Visa. Overstaying by even a few days will affect your future visa applications if reported to immigration.
Those who overstay their Visa for more than 28 days may get an interview by immigration authorities on their way out. Additionally, they might even ban them from traveling for three years.
It is true that there are exceptions if you have a valid reason for overstaying.
Cost of An Australia Visa 
Fees for Australia visas vary depending on the visa type, the application method, and the duration of your stay:
Tourist visa (Visa for visitors): AUD 145
eVisitor and ETA: Free, but service fees of AUD 20 apply
Training visa: AUD 310
Student visa: AUD 620
Work Visa: AUD 310 to AUD 4,045 depending on the Visa
Any refund on withdrawal of Application Visa?
Most likely, you won't get a refund if you withdraw your Australian visa application. Reimbursement for withdrawing a visa application is only possible if:
Applicants or members of their families have passed away.
Applicants holding another visa of the same category.
Only for parent visa applications: An applicant has applied for a different type of Australian parent visa, and is waiting for a decision on that application.
Additionally, you will not receive any refund on the denial of your application.
How to check Visa Validity And Conditions? 
Check your visa details and conditions using Visa Entitlement Verification Online (VEVO). You will need one of the following to access VEVO:
Transaction Reference Number (TRN) – You get this number when you apply for your Visa online.
Visa Grant Number – on the approval of your application, you will receive this number.
Visa Evidence Number – your passport will have this number if there is a visa label attached.
Additionally, you will need to enter your nationality, passport number, and birthdate.
How to Find Out About The Progress of the Application? 
With ImmiAccount, you can track the status of your online application. Your account will be updated as the Department of Home Affairs assesses your application, as follows:
Incomplete – you haven't completed your visa application yet.
Ready to submit – if you've completed your application but haven't submitted it yet.
Submitted – the application has been submitted.
Received – DHA received your application.
Initial assessment – DHA is evaluating your application.
Further assessment – if DHA requests additional information.
Finalised – you will receive an email or postal notification shortly after they make the decision.
How to Correct a Mistake on the Application? 
Whenever you submit a visa application online, you must ensure there are no mistakes. You can modify your application before paying for the Visa if you notice a mistake. You will likely have to resubmit the application if you don't notice until after you've submitted it, which also means you have to repay the visa fee.
Before submitting your application, you can review it one more time and correct any mistakes you find.
Make sure you keep in mind that making a mistake when giving your passport information could have a negative impact on you at the border.
So that was all about the Australia Visa. I hope this article will prove helpful to you in knowing about it and also if you are applying for one. For any changes that take place related to the prices or new updates, you can check the official website for Australia Visa:
https://immi.homeaffairs.gov.au/visas/getting-a-visa/visa-listing